Hire a Towing Company to Prevent Illegal Parking
Nothing is worse than having drivers illegally parking on your property. If there are limited spaces because your business gets a lot of traffic, that's one thing. However, when parking spots are being taken up by non-customers or people who don't work at your company, it can be incredibly frustrating. There are many benefits to hiring a towing service to handle illegal parking on your company's private property. Illegally parked vehicles not only hinder your employees from arriving to work on time, but it can negatively impact your business as well.
Illegal Parking Can Negatively Impact Your Business
It might not seem like a big deal if only one or two vehicles are taking up space on your property at a time. Over time, however, people might notice that they can get away with it. More and more cars might start using your lot, especially if parking is difficult in the surrounding area. Before you know it, you have a majority of your spots being taken up, with limited availability for your customers and employees. If you don't get a handle on the situation, it could hurt your business in these ways:
Late employees. Limited spots because of illegally parked cars could result in your employees being late. They might have to drive around and wait for a spot, or park farther away.
Loss of customers and sales: When a business becomes known for having difficult parking, customers will start to go elsewhere.
Fines: If the city thinks your employees and customers are parking illegally, they could give you a fine – especially if emergency vehicle lanes are blocked.
Car Accidents: Your parking lot could get congested if there are limited parking spots. With limited parking, drivers might even park in places that aren't for parking. This could jam up the lot and result in accidents.
Before You Start Towing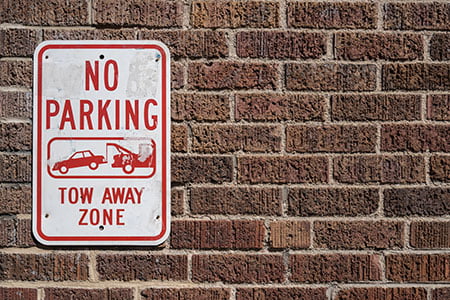 If you think hiring a towing company might be useful, there are a few things you should keep in mind. There are some steps you will need to take, as you can't call and have anyone towed without proper cause. Before you hire a towing service, check with your local jurisdiction on any rules and regulations related to towing cars on private property. Some general guidelines are:
Have signs posted at every entrance.
Signs usually need to be a specific size and even color.
The size of the lettering is also important (it needs to be legible).
Signs must state that the area is a tow-away zone, along with the hours the towing is enforced.
The signs may also need to state who can park in the area.
You must provide a name and number for the towing company, so drivers know where to retrieve their vehicle.
How Hiring a Towing Company Can Help With Illegal Parking
There are many ways a company or place of business can benefit from hiring a towing service. If you have cars taking up space in your parking lot, you should consider the benefits below:
1. Keep Parking Available for Your Employees
If you are receiving complaints from employees not being able to find parking, you might have vehicles that are parking illegally in your lot. This can happen if other nearby businesses do not offer parking for their own employees. Or if there is limited parking for customers visiting other companies nearby as well. Whatever the reason, if your employees are always struggling to find parking, it could affect their productivity. Some disgruntled workers might even seek employment elsewhere.
2. Ensure There Are Parking Spots for Customers
Customers too can grow frustrated from limited parking availability. If they can't find parking easily, they might decide just to leave or seek what they need elsewhere. This can negatively impact your business, leading to loss of sales, and even bad reviews.
3. Enforce Private Parking for Residents
Many apartment complexes, townhouses, and condominium communities already have private parking for their residents. However, it's quite common for drivers outside of the community to use the parking, even when there are signs that say "resident parking only." To ensure your residents are happy and have plenty of places to park, you can hire a towing company to help enforce the parking rules.
4. To Keep Emergency Lanes and Spaces Clear
Something that many companies often forget about is leaving space open for emergency vehicles. Most private properties and parking lots have designated areas for emergency vehicles to park. It is also necessary for all entrances to the lot, as well as the space directly in front of the door, to be kept clear. Employees and customers might start parking in undesignated spaces if all other parking spots are taken. Oftentimes, drivers can get away with this, but it can be bad news if an emergency vehicle arrives and can't get through. Hiring a towing company will ensure that all emergency lanes are kept clear.
O'Hare Towing Service in Bolingbrook, IL
Since 1963, O'Hare Towing has been serving the suburbs of Chicago and surrounding areas. From Light and heavy-duty towing to recoveries, and even service and repair, O'Hare can handle it all. Our large fleet of state of the art flatbeds are available 24/7 and ensure that your vehicle, no matter the make, model, or size, is handled with care. For a professional towing company you can trust, contact O'Hare Towing Service in Bolingbrook, IL, today!