Here Are The Top 9 Reasons We Get Calls For A Tow Truck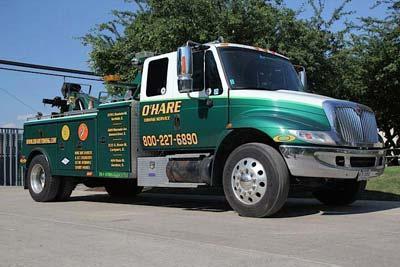 Something that any motorist wants to avoid is handling car trouble while out on the road. Few things may be worse, and as you consider how many things can go wrong for an automobile, facing these circumstances may appear daunting.
Oddly enough, not all drivers will feel as if it is necessary to contact a tow truck in the instance of vehicle problems. Oftentimes, it is a lot easier to assume that it's possible to fix the problem on your own, and there are going to be times when that's the case.
Tow trucks provide a life-line for most distressed motorists having to deal with car problems in remote areas. They may bring you and your car right to the closest mechanic, making sure that you do not need to spend time on the street as you attempt to work out a resolution to your problem.
But, more often than not you'll want to phone for assistance while dealing with vehicle problems out on the streets. As a matter of fact, there are several circumstances in which the best idea includes calling a tow truck for assistance.
Below are the leading 9 reasons motorists call for towing services when on the road, and idea to make sure you never find yourself within the same circumstances.
1. Collision
One obvious reason but still one worth mentioning – crashing with another motorist is going to more than likely mean you must to contact a tow truck!
Granted the seriousness of the accident is going to determine this, and occasionally accidents are unavoidable because of others, yet it still is an accident that is going to probably require a tow truck to assist with.
Even if there seems to be a small amount of damage, tow truck companies will have the ability to determine the real extent of the damage and take the best path of action. Never run the risk of traveling after an accident until you're sure it's 100 percent safe, and tow truck mechanics are going to have the ability to tell you this!
You cannot always avoid being a victim here, yet you may drive defensively, keep a safe driving distance, as well as adjust your speed for road conditions to give yourself the ideal possible opportunity of avoiding a collision.
2. Overheating
There are different ways where an engine may overheat, and none of these are good! From damaged fan belts to leaked water pumps, there are numerous reasons your engine may become heated and shut down and cause your car to come to a standstill.
Any car engine that's overheating immediately should be taken to a mechanic; therefore, when that happens out on the streets, you must call for a tow truck as soon as possible!
Change your fan belt(s) and coolant as per the car manufacturer's suggestion. Immediately visit the mechanic if the "engine temperature" is higher than it should be, the water pump is leaking, or the belts have become frayed.
3. Transmission failure

Change fluid in a timely manner and visit a mechanic if there are any leaks, if the tranny slips, or if the fluid on the dipstick has a burning smell.
4. Fuel delivery/out of gas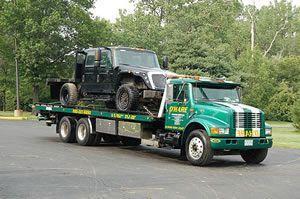 Running out of gasoline is not the best feeling for any motorist, and as it results in a need to contact a tow truck, it'll feel all the more humiliating.
But, all of us are human and forgetting about gasoline is much more common than the majority of people would assume. Also, it happens to be extremely dangerous if you're stranded on the side of a freeway or miles away from the closest gasoline station, especially when there are passengers onboard.
Some services might even have the ability to bring the gasoline to you for an affordable cost, saving money and time!
Do not allow the fuel tank to fall under 1/4 full, so you are prepared in the instance of an unexpected traffic jam. In the wintertime, keep the tank at least 50% full to deter water condensation.
5. Extrication
Good brakes and tires, as well as traveling with common sense, may help to keep you out of the ditch. Utilize winter tires in cool weather and increase your following distance.
6. Flat tire
Tires may become flat as you least suspect it. Whether it be from damaged treads, low pressure, or foreign object on the street which causes the flat, there are a couple of reasons why tires may give out mid-drive.
Granted, there are several people who are able to change a tire when that occurs, not everyone knows how to, which is the reason why you might have to phone a tow truck for help.
The tow truck might have the ability to replace the tire if you have a spare, otherwise, it is just a case of taking you and your car some place in which it may be replaced.
Normally, tires lose pressure over a period of time. Periodically check pressure and do not forget your spare. A portable inflator which plugs into the car power port also is great.
7. Boost battery
Batteries generate a lot less power in seriously cold weather; therefore, an older battery that's okay in the summer might not be sufficient in a cold snap. If the battery is more than 5 years old, have it replaced and/or checked. Few drivers do it. Instead, the majority wait until it fails, and it leaves them stranded on the road.
8. Locked out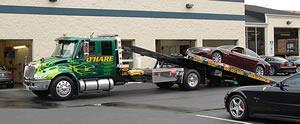 Even with a microchip-encoded metal key, you might have the ability to have an affordable copy cut for only opening the doors. For non-traditional, high-tech keys your car dealer is probably your sole source of extras.
9. Breakdown
It'll cover non-specific mechanical failure, or car failure for causes that aren't aforementioned. The best thing you can do is maintain your car according to the car manufacturer's suggestions and report all unusual things to a mechanic to have them checked out.
To check for fluid leaks, search where your car is usually parked overnight. There aren't any normal leaks except for any water that drips from the AC on a warm day.
For more reasons for a tow contact the towing services of O'Hare Towing Services today!