Are you looking at local towing services in Wheaton?
If you aren't, you should be. Local means we get to you fast. That's because we have a dispatch center right nearby. Wherever you are in Wheaton, we're close by and ready to help. Living in Wheaton provides a wide range of things to do. That puts cars on the road. Accidents are dangerous, but even a breakdown can pose a threat. Don't put yourself in further danger. Get towing services in Wheaton from the team at O'Hare Towing Service.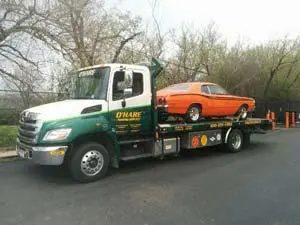 With a history of exceptional local service, we built our business on customer service. That dedication has allowed us to grow and expand at the local level. When you call us for your towing and roadside assistance needs you'll get to enjoy the following:
24/7 service from a friendly dispatch operator. Our operators are kind and collected. If you're in a stressful situation we'll help you through it. We know what information is required to get the right vehicle to you. If you don't know what you need, don't worry. We'll figure it out.
Fast service from a qualified tow truck operator. With a local operation center in Downers Grove, we get to you fast. Many of our vehicles are stocked with emergency supplies like gasoline, diesel, engine oil, and more. Our drivers are ready to assist whether you need a tow or a jump start.
Honest up-front service that you can rely on. We're happy to provide you with references on request. We've been trusted by dealerships, motor clubs, and law enforcement agencies in the time since we first opened. That's service you can rely on.
We have a wide range of towing vehicle that can handle your needs. Dispatch will make sure the right vehicle is sent. All of our truck operators are also skilled with any attached equipment. Whether it's winching a 4-door sedan or recovering a tractor trailer, we do it with skill and care. Just some of our towing services we offer in zip code 60187 and 60189 for heavy-duty vehicles include:
Emergency load transportation
Vehicle towing
Cargo/Load shifts
Emergency vehicle recovery
Mobile vehicle repairs
Driver transportation
Trailer repairs
Truck and trailer brakes
Load storage
Contact us today for local Wheaton towing service!
You should be able to get towing service day or night in Wheaton. Our dispatch center is always open for calls and we can send a tow truck driver out immediately. Whenever you are in Wheaton, you're covered. Call or contact us now. Don't worry. Help is right around the corner.