The Original Towing and Recovery
Towing and recovery services have been around for a long time. It's one of those things that you don't even think about never having existed. Like kids with cell phones, towing is something that is often overlooked, and the invention of this useful service often forgotten. Just as technology has its origins though, so does the towing industry. For today's recovery towing needs, you can always rely on O'Hare Towing services in Bolingbrook. However, there was a time when getting a tow was not just a phone call away.
In The Beginning; Towing Before "Towing" Existed
Technically, towing recoveries predate the invention of the automobile. Back when people rode in carriages, it was reasonably common for them to break down and get stuck. Unfortunately, you would usually have to wait around for quite a while for someone else to pass by and lend a helping hand. When someone did eventually come to help, it typically involved rounding up some horses and tying them up to the carriage to pull it home.
After the invention of the automobile, there still weren't any specialty vehicles or devices that could tow cars. They usually still relied on the old rope and some horse routine to get the job done and pull the broken-down vehicle home. It was commonplace, however, for cars to be abandoned on the side of the road if the horsepower was not enough to recover them.
The First Towing Recovery
In 1916, Ernest Holmes, a mechanic in Chatanooga, Tennessee, was called upon when his old friend and former business school professor got into an accident with his Ford Model T. He had lost control of the vehicle and driven it off the road into a creek bed. Not having any previous experience in the area of vehicle recovery, Ernest called upon the help of several other men to rescue the car. They spent nearly eight hours using only some wood blocks and rope to pull the Ford out of the creek bed it had crashed into. It was after this incident that Ernest realized there was a need for a machine or another type of vehicle that could make the job a lot easier.
The Tow Truck Is Born
After recovering his friend's car, Holmes became inspired. He wanted to invent a better way to recover vehicles that didn't take all day and the labor of several men. So he returned to his garage and got to work creating the first tow truck. His first attempt involved attaching a crane and pulley system to a 1913 Cadillac. The build used a metal tube framework and several pulley mechanisms, along with some wire and a hook that would attach to the bumper of the broken-down vehicle to tow it back to a repair shop. Unfortunately, the first model wasn't much of a success. The small Cadillac frame lacked the stabilization it needed to lift and tow other vehicles. So he went back to the drawing board. After several refinements, Ernest was finally able to get a patent for the first official tow truck, the Holmes 485.
The Evolution of Recovery Towing
For 24/7 recovery towing call O'Hare Towing Service today!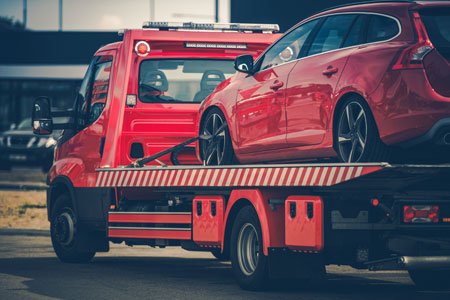 After patenting the Holmes 485, Ernest continued to adapt and make changes to the build. His efforts helped to further the evolution of the tow truck. The Holmes W70, a later version that Holmes created, is still, to this day, the largest wrecker in the world. In 1973, the Holmes Wrecker Tow Truck business was sold to a company that is now known as Miller Industries. Since then, many other manufacturers have further adapted and changed the build of the tow truck. There are now several different types that can be seen on the roads today.
Wheel-Lift Tow Truck
A wheel-lift tow truck is considered one of the more common types of recovery tow trucks. It uses a yoke to fit under the damaged or broken down car's wheels to lift it off the ground.
Hook and Chain
The Hook and Chain system on a tow truck is similar to what Homes initially invented with the crane and pulley system. The hook attaches to the car's frame or axle, and then it is lifted using a boom wince. This method is not as common today as it can easily damage a car's bumper, or could even result in a damaged drivetrain.
Flatbed Tow Truck
The Flatbed is another of the more common types of recovery tow trucks that you see today. It is a truck that has a lower portion called a flatbed on which the damaged car sits. The flatbed can lower to get the car onto it, or it can be equipped with a crane to lift the vehicle onto the bed of the truck.
Integrated Trucks
Integrated tow trucks are a combo type of recovery vehicle that uses both the boom and the wheel-lift mechanisms. This type of build makes it more useful for emergencies or the recovery of larger vehicles like buses and large trucks.
Do Your Research: Know Your Towing Company
Surprisingly, even with all of the modern updates there have been to make tow trucks more efficient, there are still some towing companies that choose to use outdated equipment that can damage your vehicle. The hook and chain build, for example, is not the most practical but is still used by some modern towing companies. When you are feeling stressed about having been in an accident, the last thing you want is to deal with a tow company that mishandles your vehicle and uses towing equipment that leaves it more damaged than it was when they arrived.
Bolingbrook Towing and Recovery Services
Here at O'Hare Towing, service is our number one priority. We guarantee a fast and courteous response, 24 hours a day, 7 days a week. With our well-maintained fleet of towing and recovery trucks, as well as GPS tracking services to ensure we arrive precisely when and where you need us, you can rely on O'Hare Towing to provide quality service.