A Brief History of Recovery Towing
September 12, 2020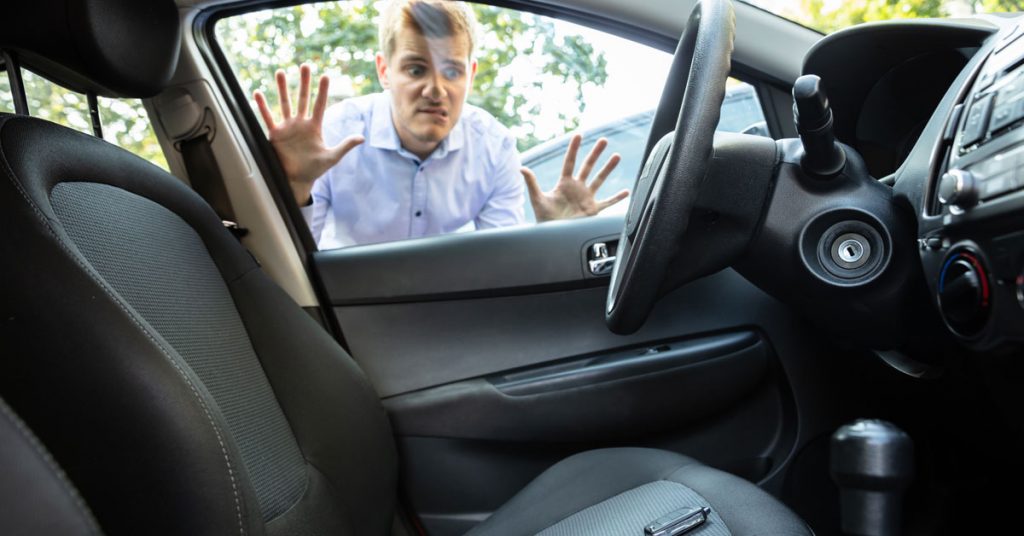 What Do I Do If I Get Locked Out of My Car?
September 12, 2020
Prepare Your Car Before the Snow Hits
Winter is upon us, and you never know when a winter storm is going to blow snow our way. Waking up and realizing you are stuck at home for a snow day is one thing. Being out and having your car get stuck or break down in the snow is a whole other issue. If you do happen to get stuck, don't panic. Notify the authorities and then call your local Bolingbrook towing service for help.
Before heading out, there are a few things you can do to prepare before any inclement weather hits:
Check Your Tires
Living in Illinois, it's always a possibility that a winter storm will dump several inches to a foot or two of snow at a time. Having good tread on your tires or even opting for special snow tires is something you should consider before the snow hits. You should also check your tire pressure as well.
Keep a Winter Emergency Kit in Your Car
Whether you commute in a secluded or a densely populated area, it is a good idea to keep a kit in your car for winter emergencies. You never know what could happen. You'll feel a lot better having to wait in the snow for a tow truck, knowing you have the safety kit available.
Some items to include in your car kit:
A backup cell phone charger or battery pack. The last thing you want is to get stranded with a dead cell phone.
A Headlamp or flashlight. These items will be handy if you are stuck at night.
Sand or kitty litter. This one may seem unusual, but sand or kitty litter is helpful when trying to give your tires more traction. Sprinkle the sand or litter in front of and behind the wheels to give them something to grip as you try to get your car unstuck.
Safety triangles or road flares will help signal to any oncoming traffic or emergency responders that there is a broken-down car.
Extra clothing. An extra pair of socks, warm pants, a sweatshirt, gloves, a hat, and a raincoat or poncho are good to have in case you get cold or wet from being out in the snow. It might even be a good idea to keep an extra pair of snow boots as well.
A warm blanket. If you are stuck for a while, you'll be grateful to have a blanket to stay warm in freezing temperatures.
Food and water. Again, these are essentials to have in case you get stuck for a long time before help comes.
What to Do If Your Car Breaks Down in the Snow
If your vehicle does breakdown or gets stuck in the snow, stay calm. Unless you are in an extremely remote area, the chances of someone else passing by are pretty high. Wait times for tow trucks and emergency responders are also a lot quicker and more efficient these days with modern advances and GPS capabilities.
Call the Authorities and a Tow Truck
First things first, before you attempt to evaluate your car's situation, pull out your phone and alert the local authorities. Depending on the severity of your situation, it may take some time for emergency responders to get to you. The next thing you should do is call your local towing service. If conditions are bad, there could be multiple accidents in your area. So you'll want to notify them as soon as possible to limit your wait time.
Move Your Car to Safety and Remain Visible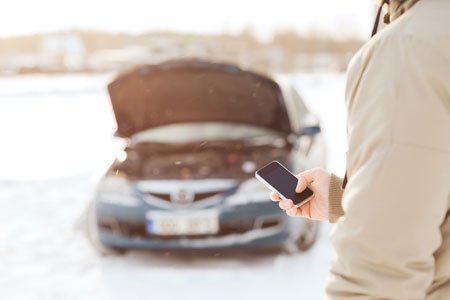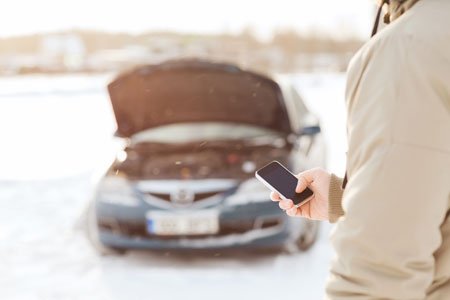 If your car breaks down in the middle of the road, you should try to move out of the way if possible. Slippery roads make it more difficult for oncoming traffic to stop and move around you easily. If moving your car is not possible, you can set up road flares or safety triangles around your vehicle. Doing so will alert other vehicles that your car is in the middle of the road, and that they need to proceed with caution.
It is still a good idea to place flares or safety triangles out even if you do move to the side of the road. You will want emergency responders and the tow truck to be able to easily spot you. It can be especially challenging to see vehicles in the snow, so anything you can do to remain seen will help.
Don't Keep Your Car Running
Understandably, you'll want to keep your car on for the warmth in cold temperatures. However, it might take some time before the tow truck arrives, so you'll want to save your fuel. Cycle the car on and off. Leave it on long enough to heat the cabin, and then turn it back off. Repeat when the car gets cold. Having a warm blanket and extra clothes in the car can help keep you warm in this situation.
Stay Inside the Vehicle
If you don't think your car is that stuck, going outside to asses the situation to determine if you can get yourself out is okay. However, if the weather is nasty, it's smarter to stay inside the car. If the ground around the vehicle is icy, you could slip and fall. There are also chances that other cars could hit you if you are standing on the road. Your best bet is to stay safe and warm inside the vehicle until the tow truck, and emergency responders arrive.
How O'Hare Towing Service Can Help
O'Hare Towing Service provides a variety of quality towing and roadside assistance services for Bolingbrook, IL, and the surrounding areas. We guarantee a fast and courteous response 24 hours a day, seven days a week. If you are stuck in the snow or your car breaks down in inclement weather conditions, call O'Hare Towing for quality service where and when you need it.